I am going to be linking this post with the Sourdough Surprizes blog. This the last time they are doing a monthy challenge. (sniffle)
The theme was Holiday Breads. This recipe is kind of stretch, but since it is the last linky party they will be hosting they said I could go ahead and enter. :) Isn't that sweet! I am kind of sad that they won't be doing their challenges any more, but they have a wealth of sourdough recipes in the archives. :)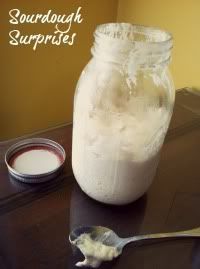 This my favorite type of bread to make with my sourdough starter.
Rye Onion Caraway Seed Rolls
1 cup sourdough starter
1 cup kefir
1 medium onion, finely chopped
1 Tbs. Caraway seeds
2 Tbs. molasses
2 tsp. salt
1 egg
1 cup rye flour
2 1/2 - 3 cups whole wheat flour
In a large bowl stir together the starter, kefir, onions, Caraway seeds, molasses, and salt.
Stir in a cup of the wheat flour and beat for a minute.
Stir the egg into the mixture.
Gradually add the rest of the wheat and rye flour.
Rest 20 minutes to allow the flour to fully hydrate.
Knead the dough for 10 minutes. The dough should be elastic. You may need to add some more wheat flour if the dough is too sticky to handle, but the dough should be fairly wet
.
Cover bowl with a damp kitchen towel and place in a warm, draft free area. Allow to rise until doubled, 6-12 hours.
When risen shape into rolls and place on a greased baking sheet, a few inches apart.
Cover with towel and allow to rise, 1-2 hours.
Bake in a preheated 350* F. oven for 25-30 minutes.
Enjoy!
I really like these served warm with cream cheese. I think they are such a treat!